Welcome to Cyber Watch series for today, August 11, 2023. At DigitalXForce, our Cyber Intelligence team curates a list of the latest cybersecurity news to keep you informed of stories that matter every week. 
This week's Cyber Watch top 10 list is a compilation of stories from 50+ relevant news sources across the web – all ranked according to the risk impact. We encourage you to review these stories and take steps to protect your organization.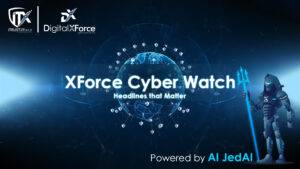 The Black Hat USA 2023 conference, as summarized by SecurityWeek, showcased groundbreaking cybersecurity revelations. Notable announcements include advanced threat detection tools, insights into cutting-edge attack vectors, and collaborative strategies to combat evolving digital risks. 
The event underscores the industry's dedication to innovation and collective defense against complex cyber challenges.
In a significant move aimed at bolstering national security, President Joe Biden has signed an executive order centered on enhancing security technology measures. The order, detailed in a report by Security Magazine, underscores the administration's commitment to safeguarding critical infrastructure and sensitive data against evolving threats. 
The comprehensive order mandates the implementation of advanced cybersecurity protocols across federal networks and urges closer collaboration between government agencies and private sector entities. 
A severe security flaw has been uncovered, rendering a vast majority of Intel CPUs susceptible to nearly undetectable attacks. As reported by SC Magazine, this vulnerability poses a grave risk, enabling malicious actors to exploit systems without leaving any trace. The flaw's potential for covert intrusion has raised concerns over data breaches and unauthorized access to sensitive information.
 Intel, a cornerstone of modern computing, now faces intensified pressure to swiftly address this issue. The security community and users worldwide await further developments as experts work to mitigate the fallout and secure the affected systems.. 
The National Institute of Standards and Technology (NIST) is amplifying its cybersecurity efforts. As detailed by Infosecurity Magazine, NIST is broadening its focus on critical areas such as supply chain security and 5G network resilience. 
The move aims to enhance national cyber defenses and foster innovation against evolving digital threats.
The UK Electoral Commission has fallen victim to a cyberattack, as reported by Cybersecurity News. The breach raises concerns over the integrity of electoral processes and data security. 
Authorities are investigating the incident, highlighting the ongoing need for robust cybersecurity measures to safeguard democratic institutions.
Prudential, a prominent financial institution, has experienced a data breach, as disclosed by CyberNews. Personal information of customers was compromised due to a "MOVEIt" software vulnerability. 
The incident emphasizes the urgency for financial firms to fortify their cybersecurity infrastructure and protect sensitive client data from unauthorized access. 
A cybersecurity experiment detailed by Wired showcases a "honeypot" that entices hackers into a controlled environment, deflecting attacks from critical systems. The innovative approach offers insights into cybercriminal techniques and enhances security strategies. 
This proactive defense underscores the importance of staying ahead in the ongoing battle against cyber threats.
Reported by The Hacker News, North Korean hackers have reportedly launched cyberattacks against Russian organizations. The attacks target Russian military and defense sectors, suggesting geopolitical motivations. 
This cross-border cyber threat highlights the global reach of cyber espionage and the evolving landscape of state-sponsored hacking.
Belarusian hackers have been implicated in targeting Russian embassies, according to Cyberscoop. The cyber espionage attempts highlight geopolitical tensions and the role of hacking in international conflicts. 
The incidents underscore the ongoing need for robust cybersecurity measures to safeguard sensitive diplomatic information.
SecurityWeek reports that India has passed data protection legislation in parliament, aimed at regulating data handling by businesses and safeguarding user privacy. 
Critics express apprehension over potential privacy violations, underscoring the delicate balance between data regulation and individual rights in the digital age.
Protect your digital assets, folks. It's a wild, wild West in the Digital Galaxy. See you next week!
Related Articles
Cyber Watch – August 4, 2023
Cyber Watch – July 29, 2023
Cyber Trends of the Month – July, 2023